This week Kevin has started subtraction and Adam is learning about real graphs. To start Kevin's unit we began with a subtraction hopping game. I would hold up a subtraction equation and he would find the answer by jumping forward the first number and backwards the second number. I had drawn the squares and numbers with chalk ahead of time. The kids all loved the game and we did addition for Adam. Isaac just liked jumping in the squares!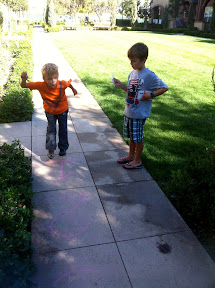 The boys all played this game for over an hour... Crazy!!
I began Adam's lesson on real graphs by using our tiles as the graph and all the kiddo shoes off the shoe rack as the objects! We made our own real graph and then answered questions such as who has the most sandals or who has the most shoes, church shoes, tennis shoes and so on!! Adam loved that he got through the whole lesson without having to sit down!